Neuropsychopharmacology Grand Rounds featuring Dr. Herb Meltzer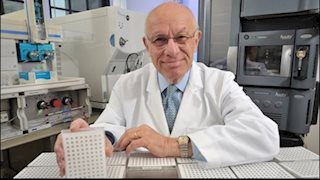 Nov. 1, noon in the WVU HSC PATH Auditorium
The WVU Departments of Physiology, Pharmacology and Neuroscience and Behavioral Medicine and Psychiatry are pleased to announce that Herbert Y. Meltzer, M.D. will present a special Neuropsychopharmacology Grand Rounds at noon on November 1 in the PATH Auditorium (Room 2118 HSN).
Dr. Meltzer's talk is titled, "Atypical Antipsychotic Drugs And Understanding Their Mechanism Of Action Has Accelerated The Development Of Novel Treatments for Schizophrenia and Many Other Neuropsychiatric Disorders."
Dr. Meltzer is a professor of psychiatry and physiology and director of the Translational Neuropharmacology Program at Northwestern University in Chicago, Illinois. He is also chair of the Young Investigator Grant Review Committee for NARSAD. Dr. Meltzer is the recipient of the Efron and Paul Hoch Awards of the ACNP, the Noyes Prize of the Commonwealth of Pennsylvania, the Edward J. Sachar Award from Columbia University, the Lieber Prize for Schizophrenia Research from NARSAD, the Stanley Dean Award for Research in Schizophrenia of the American College of Psychiatry, the Gold Medal Award of the Society of Biological Psychiatry, the Earl Sutherland Prize for Achievement in Research of Vanderbilt University, the Research Prize of the American Psychiatric Association, the Grant Liddle Award for Clinical Research from Vanderbilt University and the Lifetime Achievement Award, Winter Conference on Psychosis.
Dr. Meltzer's research interests include:
the development of genetic biomarkers for personalized medicine in psychiatry;
the discovery, development, and optimal utilization of antipsychotic drugs, rapidly acting antidepressants, cognitive enhancers, and other novel pharmacologic treatments for schizophrenia and related disorders, including bipolar disorder;
the causes and novel treatments for cognitive impairment in schizophrenia and bipolar disorder.
Please contact dpsiderovski@hsc.wvu.edu or vssetola@hsc.wvu.edu for further information.