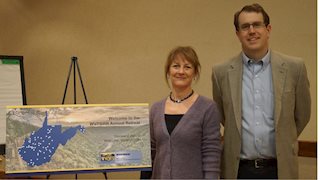 MORGANTOWN, W.Va. – Jennifer Boyd, PA-C, clinical coordinator with the West Virginia Primary Care Association and family practice physician's assistant at the New River Health Association, and William Lewis, M.D., family medicine physician with Harpers Ferry Family Medicine and associate professor at West Virginia University Easter Division, have recently been named co-directors of the West Virginia Practice-Based Research Network (WVPBRN).
This new leadership marks a shift to providers and network members who have been a part of the WVPBRN since its early stages steering the future of the organization.
"The West Virginia Practice-Based Research Network is in a great position to build upon the many successes achieved under the past leadership of Dr. Hassen and Dr. King," said Sally Hodder, M.D., WVCTSI director. "I look forward to the projects and new knowledge that will be generated by the network under this new leadership."
The West Virginia Clinical and Translational Science Institute's WVPBRN is an 86-site formal network that facilitates the conduct of studies that address important health issues in West Virginia. To date, over 2,600 patients and 274 providers have been involved in one or more projects, many of which have resulted in policy or practice changes.
Jennifer Boyd has been a WVPBRN member since 2013, serving on multiple projects including WV Project ECHO that connects rural patients with specialized care via videoconferencing technology. In her new position as co-director, Boyd will provide guidance on patient and provider engagement, foster linkage with community health centers, and provide guidance on research translation and dissemination.
"I am honored to serve as co-director for the WVPBRN," said Boyd. "The WVPBRN is bringing together academic researchers and community based partners to study topics that are meaningful and have lasting impact for our communities. I look forward to my part in helping this network continue to flourish."
William Lewis has been a WVPBRN member since 2013 and has led several initiatives including the IRIS diabetic eye exam project and the Resident Learning Collaborative. In his new position, Dr. Lewis will provide guidance on provider input and patient/provider engagement, WVPBRN research design, membership relationships, and practice transformation research.\
"I think we have a very unique opportunity to truly impact the people in our state with meaningful research," said Lewis. "The WVPBRN has a history of bringing beneficial projects to our communities and we really hope to continue this tradition."
Boyd and Lewis succeed previous co-directors Dana King, M.D., professor and chair of family medicine at West Virginia University, and Arnold Hassen, Ph.D., director of the West Virginia School of Osteopathic Medicine's Center for Rural and Community Health.
For more information on the WVPBRN, visit the program webpage.
WVCTSI Background
WVCTSI is funded by an IDeA Clinical and Translational grant from the National Institute of General Medical Sciences (2U54GM104942-02) to support the mission of building clinical and translational research infrastructure and capacity to impact health disparities in West Virginia.
-WVCTSI-
im 3/2/18
CONTACT:
Ian Moore
West Virginia Clinical and Translational Science Institute
304.581.1781