Back to

News
Dr. Darrin Nichols is Named 2019 recipient of the American Academy of Family Physicians Award for Excellence in Graduate Medical Education.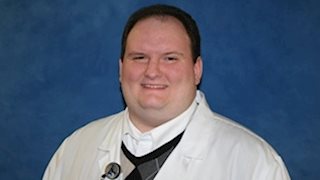 Dr. Darrin Nichols, a resident physician of Charleston Area Medical Center Family Medicine Center and a graduate of the WVU School of Medicine, was awarded the 2019 recipient of the American Academy of Family Physicians Award for Excellence in Graduate Medical Education during the organization's annual meeting in Philadelphia in September.
Of the 3,500 eligible family medicine residents, only 12 are selected for the AAFP Award for Excellence in Graduate Medical Education. This esteemed distinction has recognized outstanding family medicine residents for leadership, civic involvement, exemplary patient care, and aptitude for and interest in family medicine since 1952.

Winners are also awarded a $1,000 scholarship. Dr. Nichols and his family were on hand as he was recognized at the 2019 AAFP Family Medicine Experience (FMX) conference, the AAFP's largest annual gathering.
The American Academy of Family Physicians is the national association of family doctors, founded in 1947 to promote and maintain high quality standards for family doctors who are providing continuing comprehensive health care to the public. It is one of the largest national medical organizations, with 134,600 members in 50 states, D.C., Puerto Rico, the Virgin Islands, and Guam, as well as internationally.
A resident of Walker, West Virginia, Nichols attended West Virginia University in Morgantown, graduating summa cum laude in 2013 as a university honors scholar with a bachelor of arts degree in biology from WVU's Eberly College of Arts and Sciences and a minor in business administration from WVU's College of Business and Economics before being accepted into the medical degree program at WVU.
During his medical school clerkship years, Nichols studied in Morgantown as well as at WVU's Eastern Campus in Martinsburg and at the Charleston Campus, where he was part of the WVU School of Medicine Rural Track, a program designed to go beyond routine medical school training to significantly impact the delivery of healthcare in underserved regions.
Darrin's achievements and contributions throughout his educational career are impressive. Motivated by his passion and hard work, he has been the recipient of multiple awards and honors throughout his years in medical school at WVU and his current residency at CAMC.
He was named a 2016 Pisacano Scholar by the American Board of Family Medicine, a prestigious award given annually to only five medical students across the country. Darrin was the first student from West Virginia University to be named a Pisacano Scholar since the foundation was started in 1993.
"We are so fortunate to have Dr. Nichols in our department and thank him for all of his excellent work," said Dr. Andy R. Tanner, program director of the department of family medicine at WVU Charleston Campus at Charleston Area Medical Center. The CAMC Family Medicine Center is a 15,000 square foot facility located in the Robert C. Byrd Clinical Teaching Center adjacent to CAMC Memorial Hospital, serving over 14,000 patients a year.
Asked about his future plans, Nichols says that his goal, after completion of his family medicine residency at Charleston Area Medical Center, is to return to his hometown area in Wood County to practice as a family physician and primary care provider.
"Being from a small community, I am so appreciative of the resources that were expended by my family, friends, neighbors and other community members who helped get me to where I am today," Dr. Nichols said. "I hope to work in a complete family practice setting, seeing patients from newborns to elders and from a variety of backgrounds. This is the aspect I find most interesting about Family Medicine – this variety makes the practice of family medicine anything but ordinary."