Back to

News
Dr. Jessica Pauley Amos Promoted to Associate Program Director of CAMC Residency Program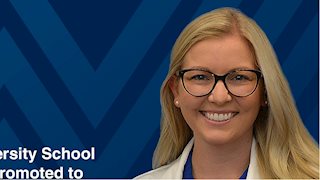 Jessica Pauley Amos, DO, an assistant professor at the West Virginia University School of Medicine Charleston Campus has been promoted to Associate Program Director of the CAMC Internal Medicine Residency effective September 1, 2019.
"We are proud to have Dr. Amos join Program Director Dr. Kristen Helmick, Associate Program Director Dr. James Campbell, and Program Coordinator Misty Hodel in leading our program as we increase our resident complement," said Shawn Chillag, MD, Professor and Chair of the Department of Internal Medicine at WVU Charleston.
The internal medicine residency program is a joint effort of Charleston Area Medical Center (CAMC) and West Virginia University School of Medicine. This partnership offers a university atmosphere in the setting of a community hospital. The collaboration includes the opportunity to provide outstanding care for patients with a wide range of pathology. CAMC is the region's tertiary care center and has been the recipient of numerous national awards for the care provided to patients.
A state of the art simulation center, a diverse faculty, multi-professional training and outstanding research support all benefit the residents in the program. In addition to having a dedicated research coordinator for Internal Medicine and Geriatrics, the CAMC Health Education and Research Institute (CHERI) provides expert support in study design, statistical analysis and publishing of results.
"CAMC is the main regional campus for the WVU School of Medicine and also hosts students from the West Virginia School of Osteopathic Medicine," said Misty M. Hodel, RN, C-TAGME, Senior Residency Program Specialist for the Internal Medicine Residency Program. "An integral part of the residents' training is developing the clinical and didactic teaching skills required to ensure their junior learners receive the same high-quality education they did when they began their journey into medicine."