Back to

News
Dr. Rayan Ihle named Fellowship Director for new Pulmonary Critical Care Medicine fellowship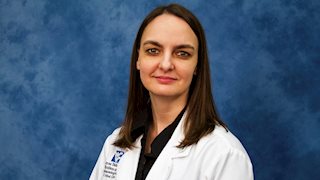 The West Virginia University Health Science Center Charleston Campus would like to congratulate Dr. Rayan Ihle on becoming the Fellowship Director for The Charleston Area Medical Center's (CAMC) Pulmonary Critical Care Medicine fellowship.This three-year program will begin on July 1, 2020 and is approved for three fellows per year.
Dr. Ihle is board certified in Internal Medicine, Pediatrics, Pulmonary Medicine and Critical Care Medicine and is an Assistant Professor at WVU-Charleston. In addition to her busy practice in Pulmonary Critical Care Medicine, she is the Director of Pulmonary Critical Care of WVU-Charleston, the Pulmonary Section Chief of CAMC, the President and Founder of the West Virginia Chapter of the American Thoracic Society, and serves on the West Virginia State Board of Respiratory Care among other accomplishments. Dr. Ihle stated, "I am so very excited and honored to lead this program. Not only does it improve opportunities for subspecialty training as the second pulmonary critical care program in the state, but it also serves our mission of providing the best care to West Virginians in an area of medicine that is in high need. I look forward to the challenge in front of us and thank CAMC for their support in this endeavor."
The fellowship will provide training in pulmonary and critical care medicine for inpatients as well as outpatients including advanced bronchoscopy and critical care interventions. The training program builds on the years of clinical expertise that nearly with 20 pulmonary critical care faculty at CAMC offer and a long standing culture of academic excellence at its foundation.