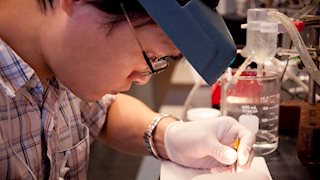 Event Date: 10/22/2019
from 01:00 PM - 03:00 PM
WVU Health Sciences faculty and students from more than 20 laboratories will host the inaugural WVU Health Sciences Lab Open House Tuesday, Oct. 22.
The event, set for 1 to 3 p.m. in the Pylons/Learning Center Commons, will allow community members, area high school students and prospective graduate students to meet Health Sciences faculty and students and to learn more about their research.
"We hope this event will introduce the community to our scientists and increase their understanding of the fundamental connection between our lab-based research and solving real problems," said Dr. Laura Gibson, senior associate vice president for research and graduate education.
Core Facilities leaders will also be available to discuss how they apply technology to solving challenges.
Attendees are invited to stop by as their schedules allow. Snacks will be provided. Please RSVP here.
The Pylons/Learning Center Commons is located at 64 Medical Center Drive, Morgantown.
For additional information, contact Nicole Beason at 304-290-4706.