Back to

News
L. Clark Hansbarger Lecture at WVU Charleston Campus to address "Moving Toward An 'Age Friendly' Health System"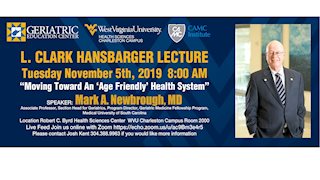 CHARLESTON, W.Va. – WVU's Health Sciences Charleston will host the L. Clark Hansbarger Lecture on Tuesday November 5th, 2019 at 8:00 am at the Robert C. Byrd Health Sciences Center on the WVU/CAMC Memorial Hospital Campus in Charleston.
Entitled "Moving Toward An 'Age Friendly' Health System," the lecture is jointly provided by the West Virginia University Charleston Division, the West Virginia Geriatrics Education Center, and CAMC Institute and will feature speaker Mark A. Newbrough, MD, associate professor and section head for geriatrics at the Medical University of South Carolina (MUSC). Dr. Newbrough is also program director of the University's geriatric medicine fellowship program.
Dr. Mark Newbrough joined the MUSC faculty in October, 2016 in the Division of General Internal Medicine and Geriatrics as the section head for a new section of geriatrics. He specializes in caring for older adults with complex medical needs and frailty, and in working with patients and their families to make sure that the health care they receive is appropriate for their condition and in line with their values and wishes.
A native of West Virginia, Dr. Newbrough received his biology degree from the University of Virginia (UVA) in 1981, and his Doctor of Medicine degree from West Virginia University (WVU) in 1985. He completed residency and fellowship training in West Virginia and is board certified in both Internal Medicine and Geriatric Medicine.
During his 21 years at WVU, he focused on the care of older adults in a variety of settings, including in the clinic, hospital, nursing home, and in a rural community health center where he served as the medical director for over 16 years.
He also became a statewide leader for geriatrics and health professional training and education in geriatrics. In 2012 he left WVU and joined the faculty at UVA to become the medical director for a new PACE program (Program for All Inclusive Care of the Elderly), and also served as the section head for geriatrics.
The health sciences center will host the event in campus classroom 2000 and there will also be a live feed that can be accessed online using Zoom https://echo.zoom.us/u/ac9Bm3e4r5
The lecture is named for L. Clark Hansbarger, M.D., who served as associate vice president for health sciences and dean of the WVU School of Medicine's Charleston Campus for a decade prior to his retirement in 2013.
Please contact Josh Kent 304.388.9963 if you would like more information or for questions about the remote connection or any other inquiries.