Back to

News
New minimally-invasive procedure prepares patients for kidney dialysis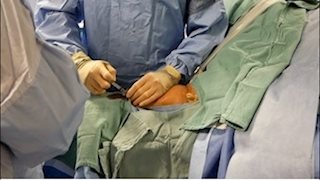 From CAMC Health News https://www.camc.org/body.cfm?id=3007&action=detail&ref=1468
Healthy kidneys clean your blood and remove extra fluid in the form of urine. Dialysis replaces some of these functions when your kidneys no longer function properly.
In hemodialysis, a machine and a special filter are used to clean your blood in order to keep you healthy. To get your blood into the dialysis machine, a doctor creates an entrance into your blood vessels. This is done with minor surgery, usually to your arm.
Vascular surgeons practicing at CAMC are among the first in the nation to use a new approach: placing very small punctures in the skin to create a connection between an artery and a vein for patients who need hemodialysis.
"This is a game changer," said Shadi J. Abu-Halimah, MD, a vascular surgeon at the CAMC Heart and Vascular Center and an assistant professor of surgery at West Virginia University's School of Medicine Charleston Campus. "As vascular surgeons, we have a lot of patients who require fistulas (a connection between blood vessels). This new method is less invasive. I'm happy to offer it to the patients who qualify for it."
Traditionally, the surgeon would make a cut on the forearm between two and six inches long, depending on the patient's anatomy, to access and connect the artery and vein. This exposed the patient to a greater risk of infection and other complications.
Abu-Halimah says this new endovascular procedure can be done using either local anesthesia or block (numbing medication around the nerve), which improves recovery and outcomes.
WATCH: Dr. Abu-Halimah describes this new minimally invasive approach to create a fistula.
The new method involves the surgeon making one small puncture in the artery and another small one in the vein. Two magnets attached to the end of a catheter pull the artery and vein together, and then the device uses electric cautery (or heat) to create a hole between the two and make the connection from inside each vessel.
"Kidney failure is discouraging because patients are attached to dialysis," Abu-Halimah said. "The less we can do to them through minimally-invasive approaches makes them happier. They are in and out of the hospital and don't have to come back, so it makes a big difference for them."
In the United States, more than 661,000 Americans have kidney failure. Of these, 468,000 individuals are on dialysis. This new technology provides clinicians with a less invasive arteriovenous fistula creation alternative to open surgery to prepare patients for dialysis.