Back to

News
Office of Interprofessional Education seeking applications for inaugural awards
Awards luncheon set for April 17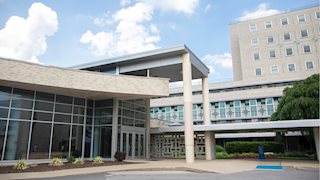 The Office of Interprofessional Education will kick off an award program for faculty/staff and students in 2020.
Faculty, staff and students from the Health Sciences campus are welcome to attend the inaugural awards luncheon April 17, the final day of Interprofessional Education Week.
The awards — West Virginia University Office of Interprofessional Education in Collaboration with WVU Libraries Awards for Excellence in Interprofessional Education — were developed to recognize the interprofessional education efforts of faculty and students in the areas of education, service and scholarship.
"The Office of Interprofessional Education has partnered with the WVU Libraries, so in addition to the monetary award, the recipients will have a display representing their work at the Health Sciences Center Library," said Gina Baugh, director of the Office of Interprofessional Education.
During the luncheon, award recipients will be honored, and they will have an opportunity to share their work through a brief presentation.
The application deadline is Jan. 24, 2020. For more information, contact Amy Summers by email at amy.summers1@hsc.wvu.edu or by calling 304-293-7596, or visit the Interprofessional Education website.