Back to

News
Pharmacy residency program at Jefferson Medical Center ASHP accredited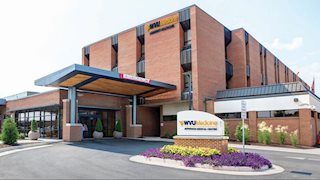 RANSON, W.Va. – WVU Medicine Jefferson Medical Center's Pharmacy Residency Program has been approved for accreditation by the American Society of Health-System Pharmacists (ASHP).
The Postgraduate Year One (PGY1) Pharmacy Residency Program at Jefferson Medical Center was granted accreditation for six years through 2023 by the ASHP Commission on Credentialing.
"Achieving residency accreditation is a very rigorous process that includes a thorough onsite review by the ASHP survey team," Jonathan M. Kline, Pharm.D., director of Jefferson Medical Center's pharmacy residency program, said.
The accreditation process includes a review of all aspects of the program to ensure it meets the very highest of standards. Accredited programs must demonstrate compliance with established standards of practice and offer a program that meets the requirements of pharmacy practice training.
According to Dr. Kline, the residency program is balanced between two practice sites, Jefferson Medical Center and Harpers Ferry Family Medicine. It is designed to provide an intensive, focused, and independent practice experience for clinical pharmacists interested in working in a hospital or ambulatory care clinic.
"This accreditation validates that our residency program is among the best in the country in providing licensed pharmacists with the experience needed to excel in their careers," Kline stated. "I congratulate every member of our pharmacy team for the work in achieving this honor."
For more information on the pharmacy residency program at Jefferson Medical Center, visit www.wvumedicine.org/Jefferson/programs/pharmacy-residency/.