Back to

News
Public Health researcher identified as world expert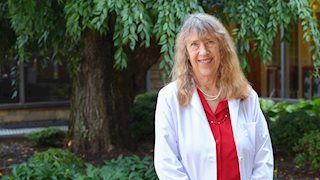 West Virginia University School of Public Health Professor Kim Innes, PhD, has been identified as a world expert in three disciplines. A member of the Department of Epidemiology, her work focuses on the epidemiology, prevention and management of chronic, age-related conditions that are common and high burden.
Innes was recognized as being an expert in mind-body therapies, yoga research and Restless Legs Syndrome after being identified as being in the top 0.16%, 0.32% and 0.98%, respectively, of published researchers.
Related to one of her areas of expertise, she recently took part in a study researching the effects of meditation or music listening practice for improving memory and cognitive functioning.
Ranked by Expertscape, an online resource for consumers, professionals and hospitals, experts are identified based on the rigorous review process of scientific publication.
-WVU-
jw/12/09/19
CONTACT: Nikky Luna
Director of Marketing and Communications
WVU School of Public Health
304.293.1699; Nikky.Luna@hsc.wvu.edu