Students, faculty, and staff encouraged to provide feedback on wellness at WVU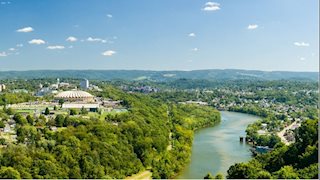 Blue Zones focus groups to be held in November
West Virginia University has a history of collaborating with the community to support well-being. Now, WVU and WVU Medicine students, faculty, and staff are invited to weigh in on a whole new level of collaboration and impact.
WVU has joined forces with Blue Zones Project – a well-being improvement initiative that's built on a 15-year longevity study into places where people live longer, healthier, happier lives – works to create cultures and environments where healthy choices are easier to make.
In an effort to help WVU become the world's first Certified Blue Zones University, your input and expertise is needed. All WVU and WVU Medicine students and employees are invited to attend on-campus focus groups to learn more about Blue Zones Project and share thoughts on challenges and opportunities to creating a culture and environment of health. Light refreshments will be provided and students are able to earn an hour of service by signing up through iServe.
To view the full schedule of events and RSVP, visit the Blue Zones Project website.
WVU Student Focus Groups:
Thursday, Nov. 8, 11 am - 12 pm

Location: Erma Byrd 201, Health Sciences Center

Thursday, Nov. 8, 12 pm - 1 pm

Location: Mountainlair, Greenbrier Room, Downtown Campus

Friday, Nov. 16, 11 am - 12 pm

Location: Evansdale Crossing 414, Evansdale Campus

WVU Faculty and Staff Focus Groups:
Faculty: Tuesday, Nov. 13, 9 am - 10 am

Location: HSC Room 7606, Health Sciences Campus

Staff: Tuesday, Nov. 13, 11 am - 12 pm

Location: HSC Room 7606, Health Sciences Campus

Faculty: Tuesday, Nov. 13, 1 pm - 2 pm

Location: Mountainlair, Greenbrier Room, Downtown Campus

Staff: Tuesday, Nov. 13, 3 pm - 4 pm

Location: Mountainlair, Greenrbrier Room, Downtown Campus

WVU Medicine Focus Groups:
Administrative Staff: Wednesday, Nov. 14, 8:30 am - 9:30 am

Location: HSC G274, Health Sciences Campus

Clinical & Nursing: Wednesday, Nov. 14, 12:30 pm - 1:30 pm

Location: HSC G119B, Health Sciences Campus

Physicians: Wednesday, Nov. 14, 2:30 pm - 3:30 pm

Location: HSC John Jones B (G285B), Health Sciences Campus

Employees: Thursday, Nov. 15, 8:30 am - 9:30 am

Location: HSC John Jones B (G285B), Health Sciences Campus

Physicians: Thursday, Nov. 15, 12:30 pm - 1:30 pm

Location: HSC G252F, Health Sciences Campus

Clinical & Nursing: Thursday, Nov. 15, 2:30 pm - 3:30 pm

Location: HSC John Jones C (G285C), Health Sciences Campus
CONTACT: Olivia Dale Pape
Communications Specialist, WVU Health Promotion and Wellness
304.293.1764; Olivia.Pape@hsc.wvu.edu