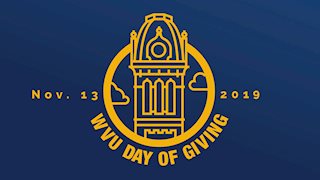 WVU Cancer supporters are being encouraged to make a gift to the Institute on Wednesday, Nov. 13, as part of the third annual WVU Day of Giving.
The WVU Foundation is organizing the 24-hour online fundraising event as a convenient way for supporters to contribute to the University. Last year, the event raised more than $6 million.
"In just two years, the annual Day of Giving has become a great day for West Virginia University," President Gordon Gee said. "We are proud of the success we have in raising funds for our students. But perhaps even more important is the success this day brings in building relationships and generating excitement across the West Virginia University system. We come together to give for a great cause – our University."
Foundation officials have noted that as higher education costs increase and available funding decreases, private support is vital to moving the University forward.
The Foundation and University will use e-mail and social media to spread the word to supporters about the special day of giving. An online donation page https://dayofgiving.wvu.edu/ has been set up as an easy way for people to make a gift online.
The WVU Day of Giving is a University-wide event including the main campus in Morgantown, WVU Health Sciences, and the divisional campuses, including Potomac State College in Keyser and WVU Institute of Technology in Beckley.
"We are always grateful when patients and friends are touched by the compassion of our care team and wish to give back in a meaningful way to others," said Tiffany Samuels, interim director of development for the WVU Cancer Institute. "We have several generous matches and challenges that will be happening throughout the day and we hope that our supporters will help by making a gift to one of the priority areas that means the most to them."
We have selected a few areas in the Cancer Institute to prioritize this year. The one area that we are asking for your help in supporting is the fund for protected research time for selected physicians who are cancer specialists that we want to recruit to WVU this year and in future years. We also plan to highlight Soup for the Soul, a program that provides lunch to patients who are in the infusion room for many hours, and the Norma Mae Huggins Foundation which provides broad support for many cancer research activities.
If you would like to find out how you can support our Day of Giving efforts at the WVU Cancer Institute, please contact Tiffany Samuels in our development and philanthropy office or by phone at 304-293-8604.