Back to

News
WVCTSI Clinical Trials Center of Excellence opens at WVU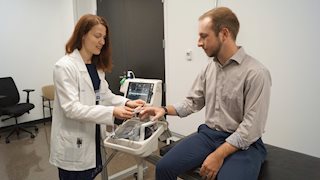 MORGANTOWN, W.Va. – To help further cement its status as a top research institution, the West Virginia Clinical and Translational Science Institute has announced the formation of the Clinical Trials Center of Excellence at West Virginia University.
The Center will serve as a resource for clinical researchers, providing regulatory guidance, training support and other important resources with an eye on improving efficiency.
"We saw a need for wide-reaching clinical trials resources to ensure consistency in policies, procedures and, most importantly, the quality and safety of trials," said Dr. Sally Hodder, associate vice president for clinical and translational science at WVU and director of the WVCTSI.
The new entity will offer clinical researchers and their teams a full list of services and resources such as FDA or sponsor audit readiness, preparation and support, OnCore clinical trial management system assistance, research personnel training, and internal regulatory monitoring and auditing. Beginning Oct. 15, investigators at WVU Morgantown's Health Sciences Center must register all new clinical trials with the new Center.
"As an R1 Carnegie Research Institution, it's important for WVU to continue to grow and enhance our infrastructure to support cutting-edge clinical trials that will provide hope for those where hope of cure or improvement may not currently exist," said Dr. Clay Marsh, vice president and executive dean for health sciences at WVU. "The Clinical Trials Center of Excellence will be critical to ensuring our researchers have the tools and training to safely, consistently and efficiently manage their trials."
Shelley Welch will serve as the Center's co-director of operations while Tanya Moran will serve as co-director of regulatory and quality affairs.
The Center will host an open house from 4 to 6 p.m. Oct. 21 in room G151 of the Erma Byrd Biomedical Research Building on WVU's Health Sciences Center campus. The event is open to the WVU research community. Those who plan to attend should RSVP to lisa.powroznik@hsc.wvu.edu.
More information about the Clinical Trials Center of Excellence can be found on the center website: http://wvctsi.org/ClinicalTrialsCOE
WVCTSI Background
WVCTSI is funded by an IDeA Clinical and Translational grant from the National Institute of General Medical Sciences (U54GM104942) to support the mission of building clinical and translational research infrastructure and capacity to impact health disparities in West Virginia.