WVU Cancer Institute holds dedication for redesigned facility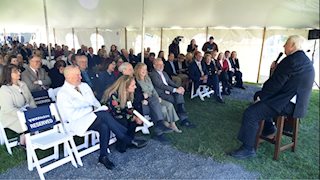 MORGANTOWN, W.Va. – The WVU Cancer Institute officially dedicated its newly expanded facility during a ceremony held today (Oct. 18).
"The expansion of our facility will allow us to meet the increasing demand for cancer care in the state and surrounding areas," Richard Goldberg, M.D., director of the WVU Cancer Institute, said. "As the cancer burden in the state grows, we have to find ways to continue providing the highest level of care available, and this expansion will allow us to do that. We have dedicated space to new technologies while improving patient experience. This will allow us to remain a leader in cancer care for the state."
The $13.2 million remodel includes 34,600 square feet of additional space, including an expanded pharmacy, eight new treatment rooms, 39 new exam rooms – a nearly 150 percent increase – nine procedure rooms, and two consult rooms. The ground floor lobby and registration area have been redesigned to meet the needs of patients and their guests, including areas with televisions and a quiet place to sit near a fireplace.
"Our primary goal here at WVU Medicine is to provide the best possible patient care for the people of West Virginia," Albert L. Wright, Jr., president and chief executive officer of the West Virginia University Health System, said. "The redesign of the WVU Cancer Institute will allow us to continue that mission through expanded capabilities and the integration of state-of-the-art technology."
Clinic visits have increased by 27 percent at the WVU Cancer Institute Mary Babb Randolph Cancer Center in Morgantown compared to this time last year. Cancer Institute and WVU Medicine leadership saw the need for additional providers and space to keep up with the growing demand.
The Institute launched a major recruitment campaign to double its physician force, hiring 38 new physicians in more than a dozen subspecialties by 2020. In addition, the Institute is bringing in more than 100 advanced practice providers, clinical pharmacists, nurses, medical assistants, and other clinical staff to support the physicians.
The recruitment effort focuses on addressing the biggest cancer needs in the state – especially breast, prostate, lung, and colorectal cancers – in addition to growing the Institute's more exclusive programs, such as intraocular melanoma, sarcoma, head and neck cancer, brain tumor, and Mohs surgery.
The facility has been put into immediate use as construction was completed, including the use of new offices and patient care areas. When the new space is fully staffed, as much as twice as many people will be able to seek cancer care here in the state. Many patients will be able to receive most of their care closer to home at one of the Institute's growing number of regional centers.
For more information: Heather Sammons, Communications Specialist, 304-285-7256