Back to

News
WVU Charleston Campus medical students sink their teeth into MedCHEFS program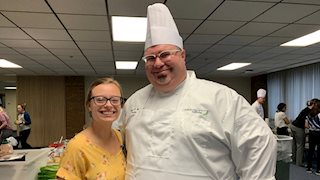 WVU Charleston Campus medical students sink their teeth into MedCHEFS program
Third-year Medical students at the West Virginia University School of Medicine Charleston Campus were treated to a day of cooking and nutrition classes as part of the 2019 MedCHEFS Nutrition Workshop, turning the campus's meeting space into a teaching kitchen that gave faculty and guest chefs an opportunity to share information and hands-on training to help future physicians give practical food advice to their patients.
Kathleen P. Bors MD, FAAFP, an associate professor of family medicine and assistant dean of student services at WVU's School of Medicine Charleston Campus welcomed students to the event and presented a brief introduction to the 'Health Meets Food' Nutrition Curriculum. This national clinical nutrition program, created by Tulane University, offers a variety of academic opportunities for medical students to further their professional and academic interests relating to nutrition and food security. The unique series of online modules has inspired programs like MedCHEFS that emphasize nutrition and exercise interactions between medical doctors and patients.
Mary Ann Maurer DO, FAAFP, an assistant professor of family medicine at WVU's School of Medicine Charleston Campus, followed with a session on "Nutrition guidelines made practical," referencing nutrition advice for physicians to share with patients regarding general health, typically by dividing foods into food groups and recommending servings of each group. "Dr. Maurer presented a fascinating up-to-date and engaging nutrition lecture," Dr. Bors said. "She set the tone for this year's themes of 'healthy fast-quick-snack food', as well as taking a practical approach to patient-centered nutrition and education."
The attendees then got into the meat of the program with the Morrison/CAMC Chef Instructor team that included chef Danny Foster, chef Brian Noel, chef Brent Pauley, and chef Greg Bess. The chefs led an introduction into culinary skills and team members led student physicians in classes in safe knife skills and food preparation that included making guacamole and hummus.
"The students learned healthy nutrition and meal prep in a practical, hands-on way - and enjoyed their time with the chefs, working in teams and sharing a communal meal," Dr. Bors said. "It's a true inter-disciplinary teaching kitchen event."
The program allowed the students, faculty and chefs to enjoy the fruits of their efforts in a communal meal that included tostada and lettuce wraps, vegetable skewers, fruit salad on a stick, health dips such as ranch dressing and hummus, fried chickpeas and healthy no-bake desserts.
The Medical Curriculum in Health Exercise and Food Sciences (MedCHEFS) program was developed at the WVU School of Medicine Eastern Division by associate dean Dr. Rosie Cannarella Lorenzetti to emphasize nutrition and exercise interactions between medical doctors and patients. MedCHEFS provides medical students with effective tools to help them change health problems like obesity, diabetes, and heart disease, all of which are very common in West Virginia.