Back to

News
WVU Charleston Campus Medical Students Win ACP Jeopardy Contest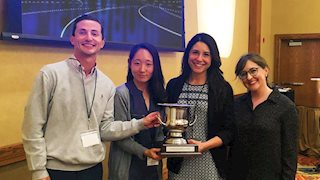 CHARLESTON, W.Va. – Who are the winners of medical student Jeopardy?
A team of medical students representing the WVU School of Medicine Charleston Campus were winners of the West Virginia American College of Physicians (ACP) Student Jeopardy contest held at the Stonewall Jackson Resort in October.
WVU Charleston campus medical students Brooke Bertus, Kristen Hardy, Jin Kim and Joseph Marshalek prevailed in the trivia contest that displays the answers first and students must buzz in and phrase their response in the form of a question.
The team bested their medical student peers from Marshall University and WVU's School of Medicine in Morgantown in the good natured but highly competitive yearly event.