Back to

News
WVU healthcare simulation center earns full accreditation, joining less than 3 percent of centers worldwide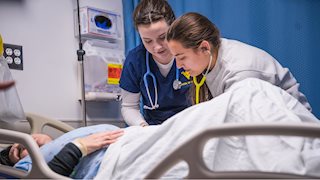 Students at West Virginia University's Health Sciences campus now have the opportunity to learn hands-on patient care at one of the world's only fully accredited healthcare simulation centers.
David and JoAnn Shaw Simulation Training and Education for Patient Safety (STEPS) recently attained full accreditation by the Society for Simulation in Healthcare's accreditation council.
STEPS is now the first and only center in West Virginia to be accredited in every area by the Society for Simulation in Healthcare. More than 700 centers worldwide are registered with the Society for Simulation in Healthcare, but less than 3 percent are accredited in all five areas.
WVU's center has been accredited in Core, Teaching and Assessment since 2014, and has now added Systems Integration and Research to its achievements.
"One of our goals of adding Systems Integration and Research is to show that we are making healthcare delivery safer for all of our patients at WVU Medicine," said Dorian Williams, Medical Director of STEPS.
STEPS, which will soon celebrate its 10-year anniversary, aims to improve patient safety by creating an environment in which students can learn, practice and measure clinical skills.
The center helps clinical learners improve their analytical, diagnostic, communication and crisis-intervention skills by utilizing a variety of patient simulators that can blink, breathe, have a heartbeat and react to medications. Additionally, standardized patients (real human actors) portray complex realistic scenarios beyond the capabilities of manikins.
"In the past 10 years, STEPS has provided the next level of healthcare education to the schools of Health Sciences and beyond with over 130,000 learner visits," said Daniel Summers, director of STEPS. "From beginner levels to the most complex scenarios, using cutting edge technology, we have been integral in educating the next generation of healthcare providers."
An open house celebration will be held Thursday, Dec. 12 from 2 to 4 p.m. at STEPS, located on the third floor of Health Sciences, South