Back to

News
WVU researcher chosen as ambassador and role model for youth-focused STEM initiative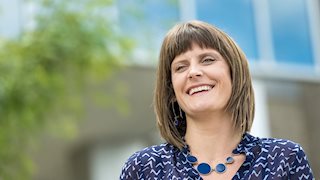 A West Virginia University researcher is being recognized for her efforts to advance and inspire the next generation of girls to pursue careers in STEM-related fields. Elizabeth Engler-Chiurazzi, Ph.D., from the WVU School of Medicine Department of Neuroscience has been named an American Association for the Advancement of Science IF/THEN Program Ambassador.
The program's goal is to inspire middle-school girls to pursue STEM careers by sharing and elevating the work of women who serve as role models.
"Where we really need to focus are 11- to 13-year olds, especially girls and those kids from underprivileged backgrounds, because that's the age where they can lose interest in the STEM trajectory," Engler-Chiurazzi said. "I found myself in their shoes at their age; those subjects didn't come easily to me and I had to work at it. Now, I just want to encourage them to do the same and let them see hard work and persistence pays off – it can unlock so many avenues for them."
If a young woman has an aspirational STEM role model, such as Engler-Chiurazzi, the AAAS reports that girls become at least 20 percent more interested in pursuing a STEM-related career.
Engler-Chiurazzi is active in brain-related education outreach in addition to her research, including participating in community events, overnight summer camps and school programs. While she notes all ages are important to try to reach through these programs, she finds there's a steep drop off in middle-school aged girls expressing interest in STEM careers.
When asked about her educational outreach efforts, Randy Nelson, M.D., who chairs the Department of Neuroscience, talked about her commitment to engaging the community and her peers.
"Dr. Engler-Chiurazzi is a key faculty member in the Department of Neuroscience who understands and the importance of our department working in the community to encourage new generations of researchers about brain and behavior," said Nelson, also the Hazel Ruby McQuain Chair for Neurological Research and Director, Basic Science Research for the Rockefeller Neuroscience Institute. "She leads these outreach efforts by example -- she shares with all of the faculty and staff at the Rockefeller Neuroscience Institute the importance of education, both within and outside of the University."
The IF/THEN name stems from the organization's belief that if they support women in STEM, then they can change the world. Engler-Chiurazzi agrees, noting that she feels exceptionally honored and excited to carry the torch for this cause.