Vet to Vet Program One-of-a-kind in Addressing Unique Healthcare Issues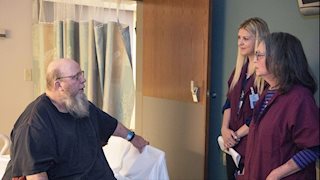 As a veteran, West Virginia University School of Nursing Clinical Associate Professor Gina Maiocco, PhD, RN, CNS-BC, understands the unique healthcare issues our military personnel and veterans face on a day-to-day basis, particularly in civilian hospitals where exposure to the needs of these patients may be limited.
To help healthcare professionals gain a better understanding of those issues and provide them with opportunities to further engage with these men and women, Dr. Maiocco started the "Vet to Vet" volunteer program at WVU Medicine's J.W. Ruby Memorial Hospital. This one-of-a-kind program connects veteran healthcare providers with military patients to provide additional support during their hospital stay.
Veteran Sarah Snider, CPM coordinator and dietitian at WVU Medicine, serves as a Vet to Vet volunteer and enjoys making these visits to veterans. She finds so much meaning in what the program is trying to accomplish. "Veterans aren't always quick to share a lot of information, but when they find out that we, too, are veterans and make that military connection with them, they tend to open up a bit more. We learn more about them and their service, which often results in us identifying issues that the patient might be experiencing, and we are able to work with fellow healthcare professionals to address their needs."
At any one time, Ruby may have 35-40 veteran patients receiving care, many whom have combat experience. During a recent visit with patient Troy Olsen, who served with the U.S. Army's Infantry Division, Dr. Maiocco and Snider learned of the hearing loss he suffered during his military service. "This is something that should be noted for those providing care to the patient, and if it's not in the patient's chart, then we can alert the staff, which makes it easier on the patient and on the healthcare providers," added Snider.
The volunteers visit veteran patients every Thursday and have connected with more than 40 men and women since the program started in November 2016. And, it has been well received by veterans. "I am glad to see help for our veterans. Please keep up the good work. It's encouraging to know someone is here for us," said another patient.
"We know our veterans experience a number of health issues, particularly those who have served in combat," said Dr. Maiocco. "As veterans ourselves, we understand the need to work with these patients to address their unique healthcare needs. Our hope is that the program will continue to grow and can be expanded to other healthcare facilities."
For news and information on the WVU School of Nursing, follow us on Twitter @WVUSoN, like us on Facebook or visit nursing.wvu.edu.
For more information: Tara Curtis, WVU School of Nursing, 304-581-1772
tec